Top 10 Most Anticipated Contemporary Graffiti Artists
Top 10 Most Anticipated Contemporary Graffiti Artists in China: Zhang Zhanzhan, Liu Ying, You Wendi, CJzhang, SNAKE, Shen Jingdong, Zi Peng, Cao Zheng, Yang Yuanyuan, Wang Gano.
Among the international trendy art, led by the works of artists such as Takashi Murakami, Kaws, Daniel Arsham, Ron English, Javier Calleja and others, trendy art has long been on the must-buy list of young collectors.
Since 2020, this form of expression, which originated from street culture, has brought the public closer to art, and graffiti art and everyone are getting closer and closer, breaking the shackles of traditional art. From limited edition prints to co-branded games, from large scale installations in art districts to commercial sound and video, this new form of art is full of imagination in terms of expression and style of expression. Unlike the seriousness of "traditional" art, graffiti art is popular with a large number of collectors in the form of blind boxes, release prints, graffiti artifacts, commemorative posters, T-shirts, shoes and hats, etc.
In 2022, we also found that there is already a group of trendy artists in China who have reached a considerable level of attainment, from their works to the Internet, and more and more people are aware of them and are getting attention.
SNAKE
Graffiti artist SNAKE "Fluorescent Anti-Color Seven Dragon Balls
Graffiti artist SNAKE is an early Chinese graffiti artist, whose works are mostly created with graffiti expressions combined with trendy elements. The use of bold colors, combined with optical effects, the work is very much a fusion experience of installation art. SNAKE is also the most anticipated graffiti artist in 2022, graffiti artist SNAKE's main works are "Fluorescent Seven Dragon Balls", "Fluorescent Pokémon", "Hermes Maotai", etc. The works of graffiti artist SNAKE at the end of 2021 are also very good in the first level field. performance.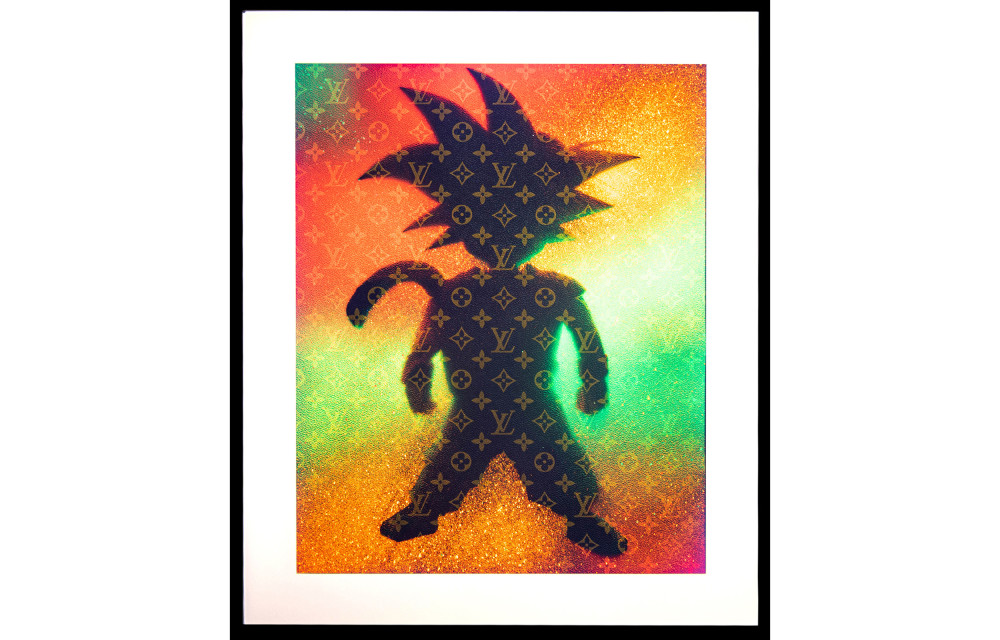 Wang Kano
Wang Kano is an early practitioner of graffiti art, and has gained a large number of fans with strong color and decoration. He focuses on the intuitive expression of art language and chooses creative materials that resonate with the contemporary youth as the theme. He mixes and blends animated images such as Astro Boy, Cat and Mouse, SpongeBob SquarePants and Pikachu with popular elements in the memories of the post-80s and post-90s, and uses techniques such as graffiti and collage to form a unique artistic expression.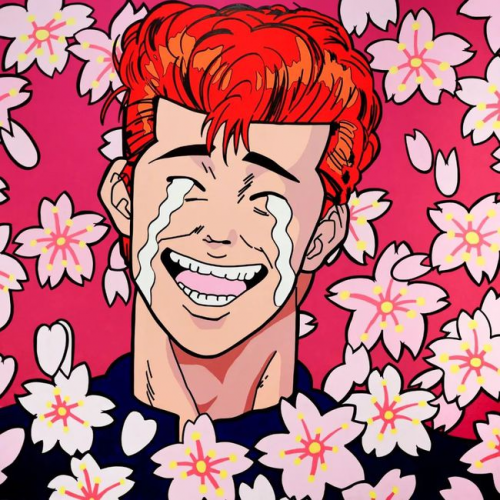 Cao Zheng
Cao Zheng combines the traditional Chinese Terracotta Warriors culture with western street elements, and uses a fantastic journey to imagine them. His works are commonly used with the trendy animation images that are popular among young people nowadays, and are paired with traditional Chinese musical instruments, bronzes and costumes, presenting a bold and humorous artistic style.

Liu Ying
Liu Ying's works have become the leader of trendy art with cutting-edge color matching and solid painting skills. The characters in her works are cute, active and colorful, presenting a distinctive storytelling and cinematic sense, creating a pioneering trendy art in China and widely acclaimed by all walks of life. Her representative works include "Forbidden Fruit", "Security" and "The Day of Parting", which are well known to many collectors.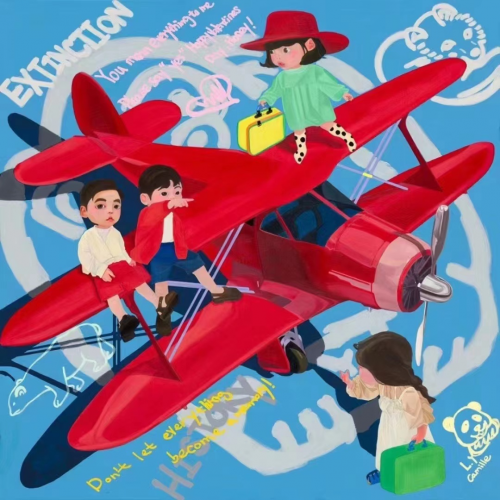 Wendi You
You Wendi pioneered the integration of traditional ink and wash art and western classic cartoon image, and is good at using traditional ink and wash combined with contemporary elements to create works, presenting the fusion and collision of oriental aesthetics and trendy world, breaking the paranoid category of "traditional" and "trendy" not being two. She breaks the paranoid category of "tradition" and "trend". Her series of works such as "Flower Mickey" and "Gossip" are highly sought after and recognized by the market.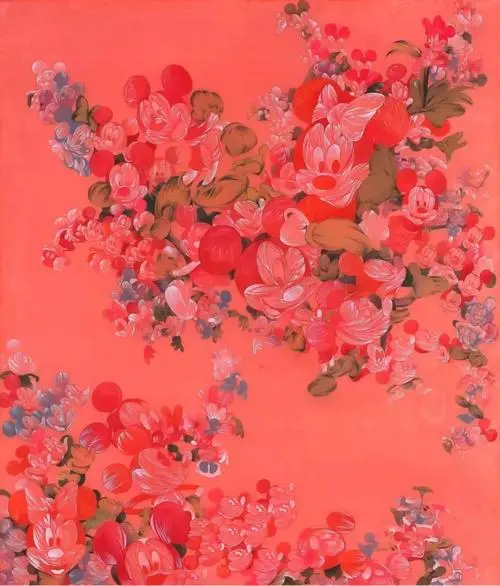 Zhang Zhanzhan
Even if you don't pay much attention to art, you will still see Zhang's works in many public areas. He tries to understand the world from a child's point of view, incorporating animal images such as bears, rabbits and giraffes into his paintings, with distinctive personalities and an innocent and childish flavor, while presenting a wonderful balance of the two factors of loneliness and healing. He incorporates his thoughts and perceptions of life into his works with a fairy-tale-like free mood, bringing a warmth that touches the heart. He uses bold colors, often using black, red and blue to present fantasy and conflict situations. His masterpiece, the red PUPU bear, is a model of cross-border cooperation between art and fashion, often appearing in the exhibition area of major shopping malls, and has absolute influence in the field of trendy art.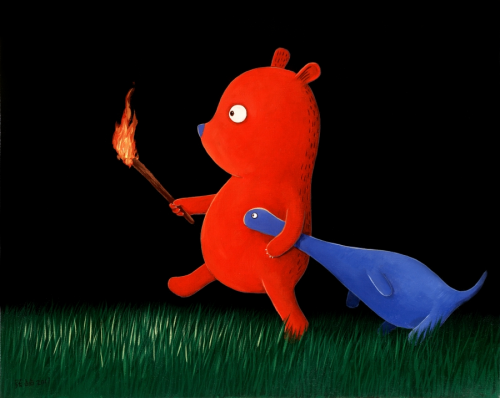 Zi Peng
Zi Peng has created a unique personal style of "jadeization" of trendy art. His works mostly display classic cartoon images in front of the public in the form of traditional Chinese jade, such as Astro Boy, bearbrick, Gundam mecha, etc., allowing consumerism and traditional culture to collide profoundly in the art of painting.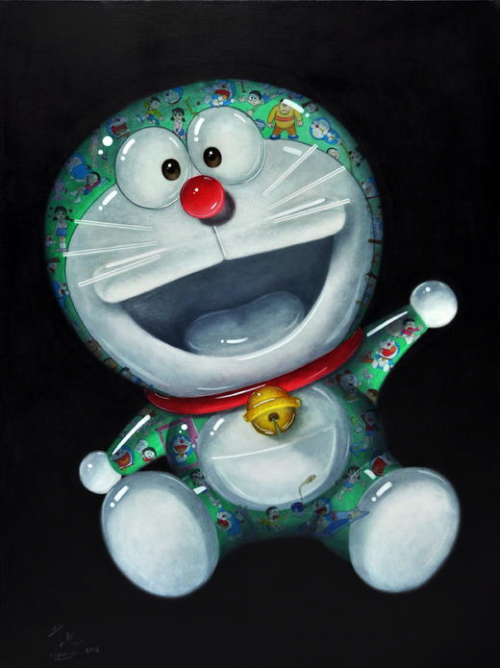 CJzhang
CJzhang's works are highly original and recognizable. Having delved into the printmaking process for more than ten years, CJzhang specializes in using advanced painting materials to express bright and intense color collisions, with details expressed mainly in circles and lines, forming countless tiny contacts on the screen to express figures, golden cows, sanctuaries and other images. His works emphasize the compositional fusion of abstract and figurative art, demonstrating a high level of artistic mastery. He has a relatively stable collector base in the young art market.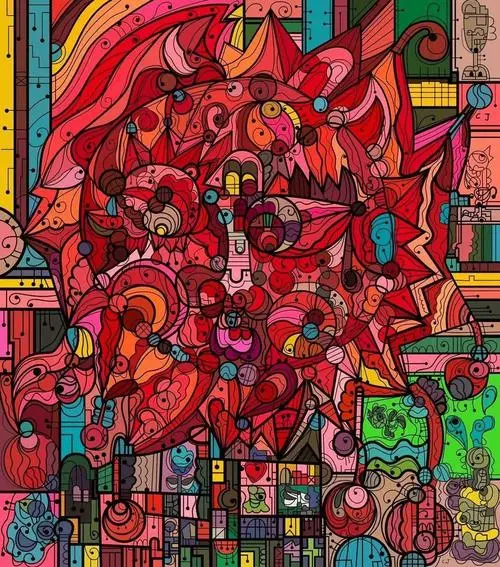 Shen Jingdong
Shen Jingdong specializes in heroic themes, combining ancient folk art forms with contemporary visual presentations, creating numerous works with "Shen's style". His representative works include "Hero" series, "The Sound of Flute" and "The Wounded and Sick". The characters in his works are brightly colored and smiling, and the candy-textured "sugar man" images are so childlike, cute and resolute that it is hard to imagine them coming from an artist born in the 1960s. From heroic feelings to fairy tale worlds, Shen Jingdong's thoughts and experiences make his works unique in China's current trendy art world.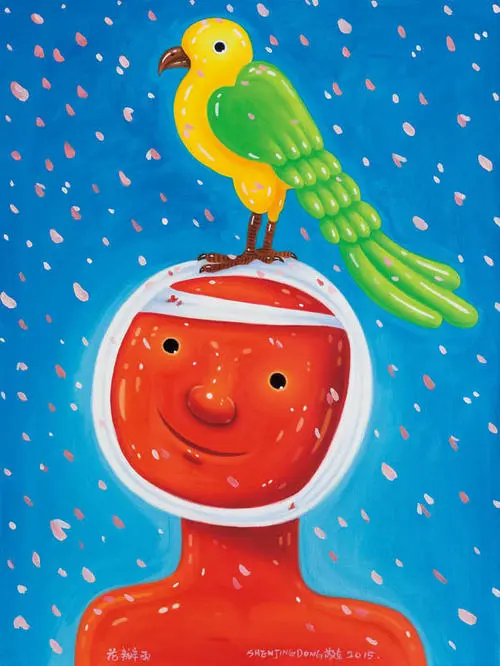 Yang Yuanyuan
Yang Yuan Yuan's works often reveal deep thoughts about society with delicate images of lambs, show the observation and comprehension of real life with the beauty of childishness, and glimpse the growth view of human world with the image of lonely animals. The sheep series has been widely acclaimed since its launch and has a considerable status in the trendy art world.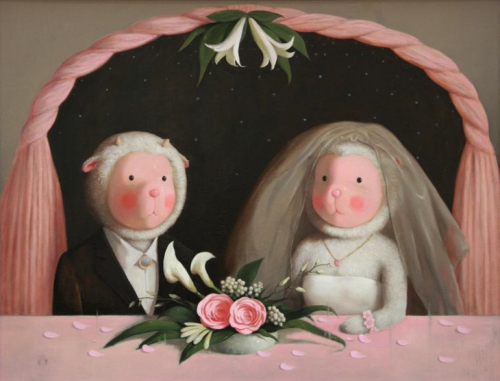 We hope that more trendy artists will be born in China in 2022, and that more and better works will be shown to everyone. We hope to go global soon.